Monero price moved sideways in the past few days as the recent rally faded. The coin retreated to a low of $152.18, a few points below this week's high of $157.16. It has risen by more than 12% from the lowest point in September. 
Monero, like other cryptocurrencies, are reacting to the ongoing war in Israel, which started on Saturday. The fear is that this war will push energy prices higher, forcing the Federal Reserve to continue hiking rates in the coming months. 
The price of Brent rose to $87.40 while West Texas Intermediate (WTI) soared to $85.60. Natural gas has also risen in the past few days. The next key catalyst for Monero and other cryptocurrencies will be the upcoming FOMC minutes scheduled for Wednesday.
These minutes will provide more information on the last meeting and provide more color on what to expect in the next meeting. The other important data to watch will be the upcoming US consumer price index (CPI) data. 
Economists expect the data to show that the country's inflation jumped by 3.6% in September. Monero is also reacting to the falling US bond yields, with the 30-year yield falling to 4.8%.
Monero price forecast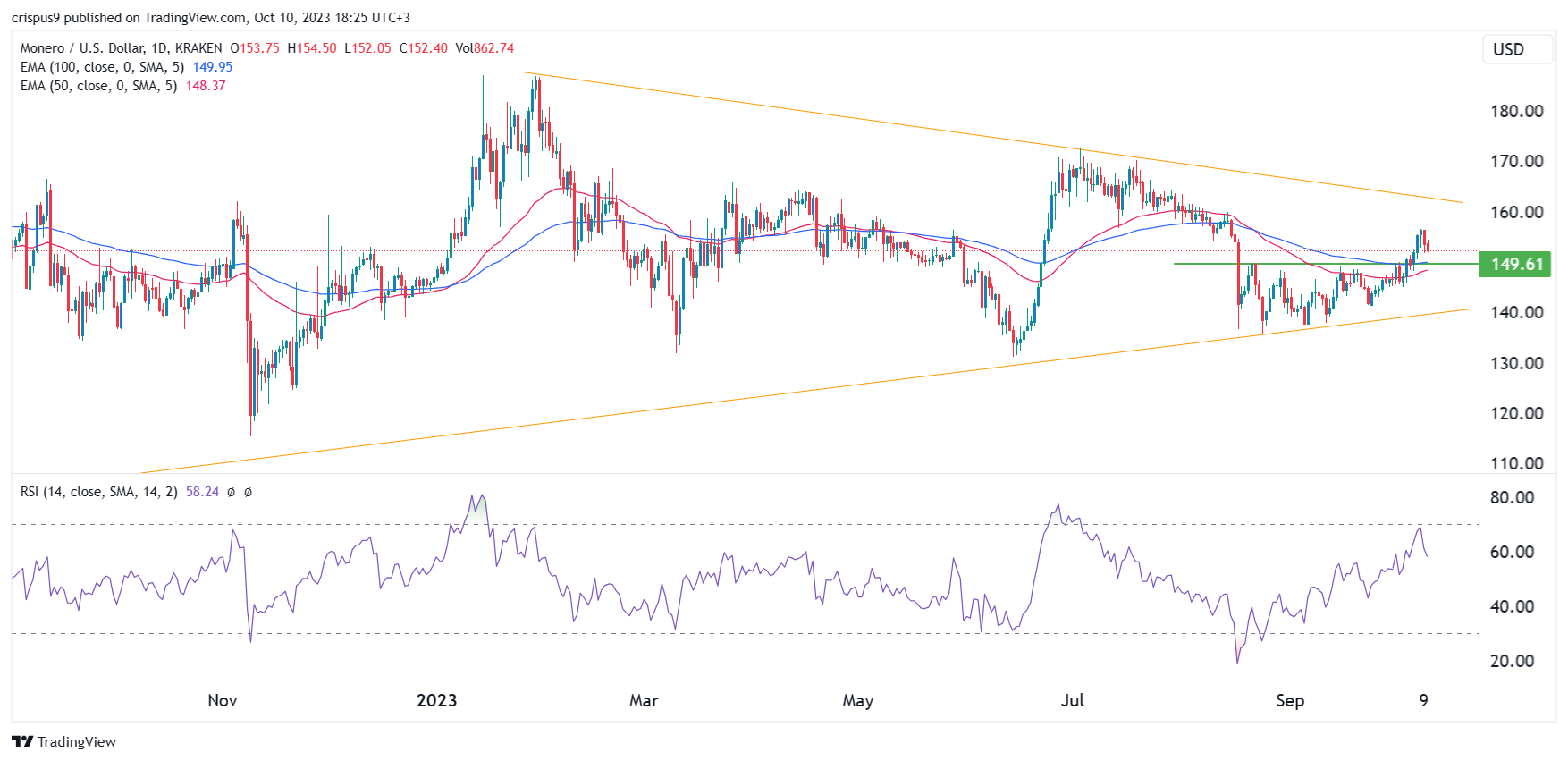 The daily chart shows that the XMR crypto price has been in a tight range in the past few weeks. Along the way, the coin has formed a symmetrical triangle pattern, which is nearing its confluence level.
Monero has moved slightly above the 25-day and 50-day moving averages while the Relative Strength Index (RSI) has drifted upwards. It has also risen slightly above the key resistance at $149.6, the highest point on August 22nd and September 15th.
Therefore, the outlook for the coin is neutral for now.  The key support and resistance levels to watch will be at $140 and $163. 
How to buy Monero
OKX
OKX is a world-leading cryptocurrency exchange, providing advanced financial services to traders globally by using blockchain technology.
Buxano
Trade crypto options on BUXANO, the world's first platform offering peer-to-peer options trading for cryptocurrency pairs.We offer direct crypto options trading between peers, settled in Bitcoin, thus eliminating the possibility of foul play that can happen on traditional binary options sites where trading is done against the broker.