Bitcoin jumps to $30k on fake BTC ETF news
The spike was quickly reversed
The chances are high that there will be a BTC ETF
Bitcoin is one of the assets that kept its gains against the US dollar in 2023. More precisely, Bitcoin's price started the year on a bullish tone, rallying massively from $15k area to above $30k. 
Fast forward to mid-October, and Bitcoin trades, more or less, near its yearly highs. 
We cannot say the same about the US dollar. 
In fact, the greenback strengthened across the FX dashboard, gaining against its traditional peers. For example, the EUR/USD traded above 1.12 in 2023, only to trade now close to 1.05. A drop of seven big figures (i.e., seven hundred pips) for the most popular and liquid currency pair tells much about the dollar's strength. 
Yet, such strength did not affect Bitcoin. Just the opposite.
Yesterday, Bitcoin tested the $30k level (again). The move came at the end of news hitting the wire that the SEC (Security and Exchange Commission) has approved a Blackrock Bitcoin ETF. 
It turned out to be a false alarm, but Bitcoin's price spiked. However, most of the move was retraced by the end of the trading day. 
And this is what makes it interesting.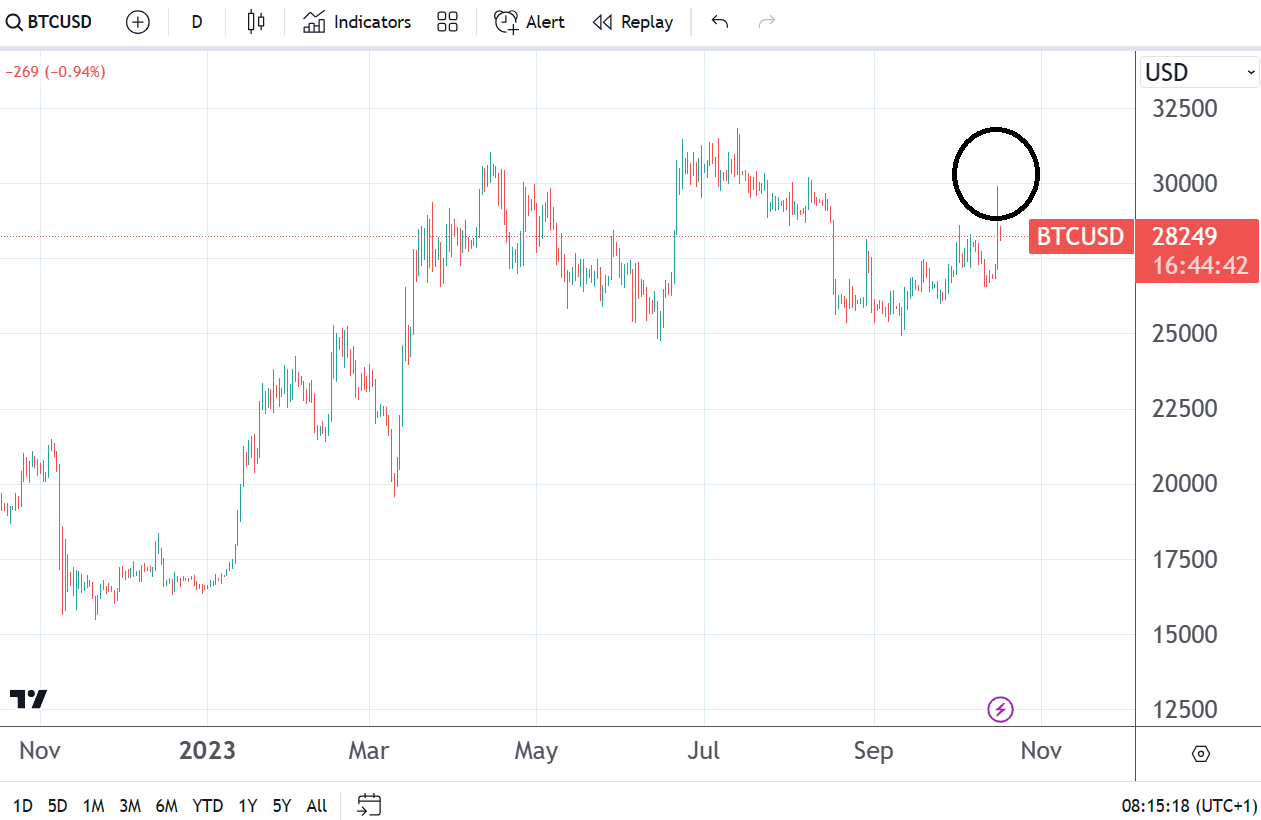 A BTC ETF is almost certain 
While most of yesterday's move was retraced, Bitcoin's price remains near the yearly highs. One of the reasons is that a BTC ETF is almost certain, despite not being announced yesterday. 
Late last Friday, the SEC announced that it would not appeal the Grayscale court ruling. Effectively, it means that a BTC ETF is very likely to be approved. Therefore, if markets are efficient, the news should already be priced in, explaining why Bitcoin trades near the 2023 highs while the dollar strengthens against everything else.