Binance Coin gave up all the 2023 gains and some more
The bearish momentum is set to continue
All hopes are on Bitcoin and a reversal of the US dollar's strength
The US dollar makes victims in the cryptocurrency market. One example is the Binance Coin or BNB. 
It gave up all its 2023 gains and some more, and the perspective remains bearish. 
The chart below tells much about what 2023 meant for the BNB/USD rate. It all started with Bitcoin rallying from $16k to $30k. 
Naturally, other coins followed as the enthusiasm in the cryptocurrency market grew by the day. 
However, Bitcoin met stiff resistance at $30k. It failed to overcome it and still consolidates around the area. 
But other coins did not consolidate levels. Instead, they declined sharply, falling to the dollar's strength. 
A combo of the US dollar's strength and loss of faith in most coins led to the sharp selloff. If Bitcoin, the last one standing, also gives up its gains for the year, then the cryptocurrency market is about to witness another major selloff. 
Hence, all hopes are in Bitcoin and a US dollar reversal.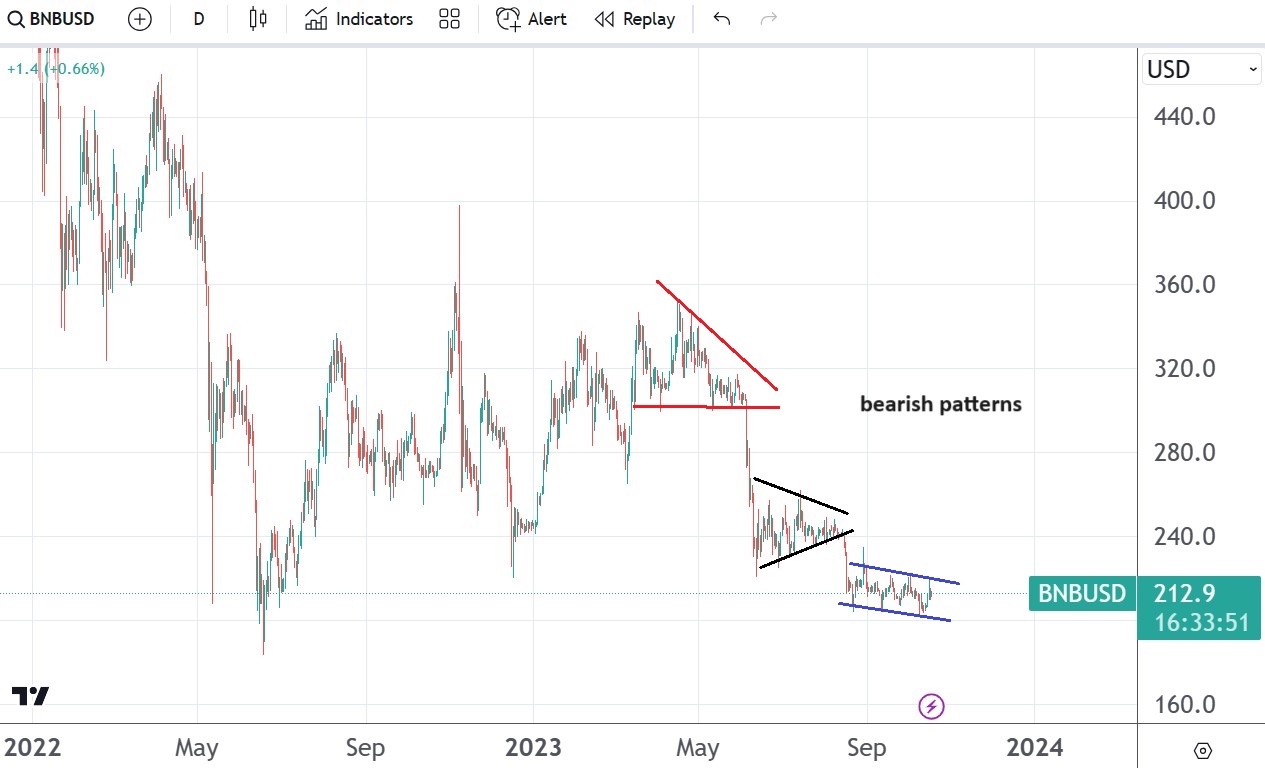 BNB/USD keeps forming bearish patterns
After it reached the $300 area while Bitcoin rallied, BNB/USD failed to hold the levels. Moreover, it formed a triangle that acted as a reversal pattern (in red on the chart above). 
Such triangles usually form at the end of complex corrections. Its nature suggested a full reversal of the 2023 move.
Furthermore, the drop to the $200 area saw no bounce at all. Instead, the market formed two continuation patterns. 
If the $200 level gives way, BNB/USD might see another leg lower, as the bearish patterns suggest. Only if Bitcoin rallies and/or the dollar reverses its gains should BNB/USD end the bearish momentum.